Research notes from Bob O'Hara
http://www.searcher-na.co.uk/royal_marines.htm
searcher@searcher-na.co.uk
I commenced you search by looking in Company records in ADM 96/249 upwards and eventually found 86th Company in ADM 96/307 for 1805. I have taken a muster of the effective names but Thomas Baugh is not included.
In the Navy List for 1798, 86th Company is shown at Chatham.
In the Navy List for 1805, 86th Company is shown at Portsmouth.
The change of port divisions as indicated in the Navy Lists might mean that the whole of 86th Company was transferred from Chatham to Portsmouth or it may mean that the Company was disbanded at Chatham sometime after 1798 and reformed prior to 1805 at Portsmouth.
I then looked for the appropriate Description Book which you wanted copied and ordered ADM 158/7 but found that this was arranged by date of enlistment and did not commence until 1808. However, I did find Thomas Baugh with 86th Company in ADM 158/6 which showed that he enlisted on 21st Jan 1797. He was promoted to Sergeant on 28th Oct 1797. On enlistment he was aged 22, five and a half feet tall with black hair and of fair complexion. Prior to enlistment he was employed as a button maker. He was born in Birmingham and was discharged on 16th Jun 1802 when his unit was disbanded. As the whole of the 86th Company was listed in this volume and as you had expressed an interest in the company generally, I took images of all the names in the Description Book.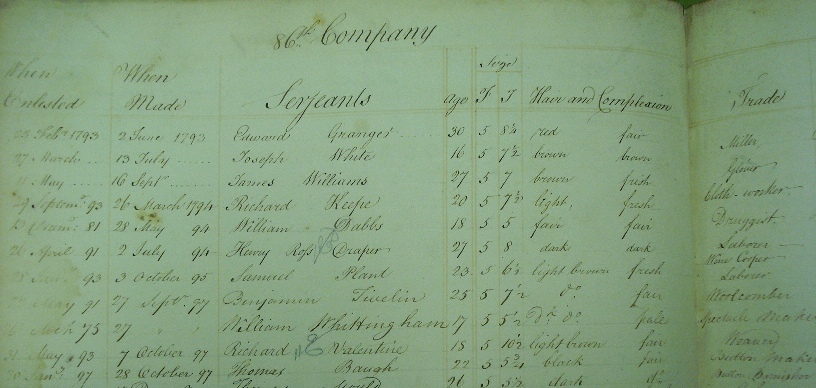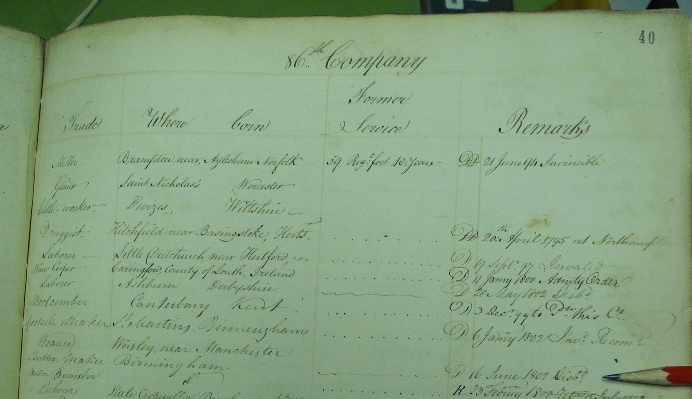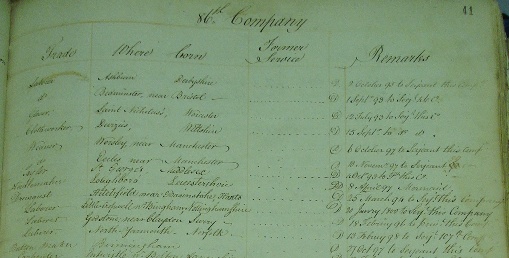 I ordered ADM 157/1 which covered Attestations from 1790 to 1804. This was a very large box with records which mostly dated from 1804. I saw very few as early as 1797 but searching was difficult as they were arranged in service number ordered which was not available to me. In any case, an examination of these attestation records indicated that the only additional information available to what had already been found in the Description Book was the place and date of enlistment which was signed by a magistrate. (Bob later searched this box without success)
ADM 201/50.
This volume held historical notes about the deployment and quartering of Royal Marines in Chatham. It was exactly what I had in mind except the date was much too early with the latest notes being dated around the middle of the 18th century. I decided these would be a distraction and would serve no purpose.
ADM 183/6 (1803 to 1806)
Chatham Order books, discharges, attestations and letter books. The references to discharges and attestations were not as useful as they might seem and were more concerned with correspondence about procedures. No individuals were named that I could see.
ADM 183/10
As above but for the years 1812 to 1814
ADM 81/22
Embarkation Returns for the years 1805 to 1814. These were arranged by ship which is what I expected and it was not practical to find RMs by name. However, I had hoped to see groups of Marines from the same company on a given ship and I could then look for 86 Company and hopefully find Thomas Baugh. The idea seemed sound enough but failed when I was unable to locate any members of 86 Company.
At this point I had to give up and fear I have nothing to add to the knowledge about Thomas that you already have.